My name is Pixel. I'm a cat.
This is my page.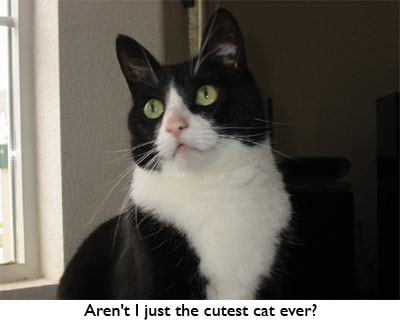 My hobbies:
Sleeping
Eating
Purring
Napping
Checking to see if my dish has wet food in it
Asking my family why my dish doesn't have wet food in it
Looking indignant when it is pointed out to me that I have a full dish of dry food
Dozing
Gazing out the window
Staring intently at nothing
Resting
Flopping at people's feet demanding to be loved
Tearing small stuffed animals to shreds
Snoozing
Stropping legs
I dislike:
Veterinarians
Car rides
Kitty jail (which my family refers to as "pet boarding," but I know better)
Hurting insects
Catnip (my family doesn't understand why I think it's boring, but that's my opinion)
Dry cat food
More about me (my favorite subject):
I'm about nine years old. I adopted the Smith-Negrino-Smith family in 1997, when they walked into the pound and I decided to keep them. Sean's mom was paying too much attention to the cat in the cage next to mine, so I tapped her on the shoulder and informed her that I was the cat they were bringing home.
I required a home that allowed me to be indoors all day long, as well as one that had no other cats. This was necessary in my new residence, as my previous people had made the disrespectful decision to have me declawed. Now, not only had they made this unfortunate choice (and we won't even talk about having me neutered!) and then left me at the pound, but they had started my life off on the wrong paw by naming me Elvis. Obviously, my true home lay elsewhere.
Given that poor start, choosing a new name was one of the first tasks undertaken by my new family. Suggestions ranged from "Five" and "OneBit" to "Spot." My suggestion was, of course, "Meow" but it was rejected as being too similar to a previous unfortunate cat named "Mew." Finally, "Pixel" was agreed upon, and I have given it my blessing by occasionally answering to it. If you send me email (see below), I promise that I will answer to my name.
Editor's note: If you've met the family, you should be able to guess who suggested each name. Also, you're just not geeky enough if you don't understand why we thought about naming a cat Five (hey, we'd just been installing Ethernet...).
My favorite books:
And of course, the ones that feature me: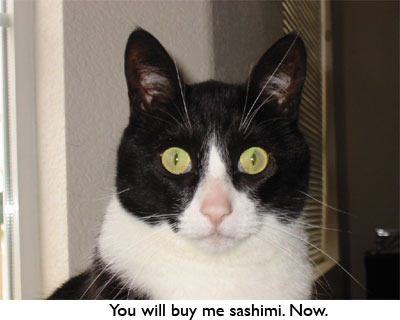 Other Web sites where I can be found:
Other, less important sites that my family maintains:
Email me!
Send me email, and I promise that I'll reply. But note that my email address has changed, due to the number of spammers that kept trying to sell me products that, well, weren't quite suitable for neutered cats.
Last updated: 19 September 2004